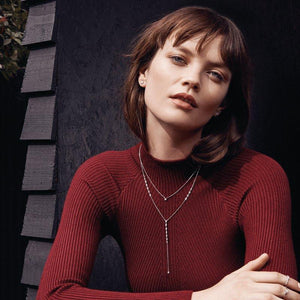 Brooke Necklace
Product Code: CN925W-BROO
Description
Size Chart & Guides
Additional Info
Sterling Silver | White Gold Finish | CARAT* Slider
A double row necklace featuring a delicate round pendant layered with a second necklace detailed with rows of tiny Round Brilliant stones that catch the light as you move. The adjustable slider allows for a comfortable fit. We love this carefree, versatile necklace paired with off-duty styles or over a sleek turtleneck.
| | |
| --- | --- |
| Metal Type | Sterling Silver |
| Stone Colour | Diamond White |
| Stone Shape | Round Brilliant |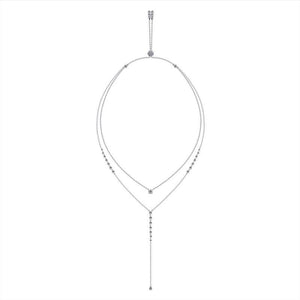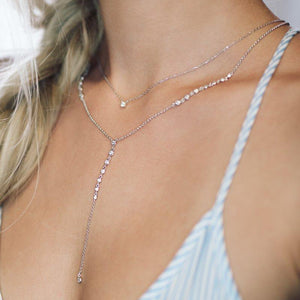 Metal Type Guide
Stone Colours
Stone Size
Ring Size Chart
Metal Type Guide
9K White / Yellow / Rose Gold
Our 9K Gold pieces are made of an alloy of gold and other white metals including silver and palladium and are plated in rhodium for a durable and scratch resistant finish. 
Sterling Silver

 

White / Yellow / Rose
Our Sterling Silver pieces are 92.5% pure silver mixed with an alloy of Silver, plated in rhodium for a durable and scratch resistant finish.
Stone Colours
Sapphire Blue

The name "Sapphire" is derived from Greek word sappheiros, which is Greek for blue. Since Ancient times the Sapphire Blue represented a promise of honesty, loyalty, purity and trust. Up till today, Sapphire Blue gems are one of the most popular gemstone colours for engagement rings. In keeping with this tradition, our brilliant Sapphire Blue CARAT* gems share a similar colour richness with their natural inspirations.

Ruby Red

Ruby Red represents love, passion, courage and emotion. For centuries, it was believed that wearing a fine red Ruby bestowed good fortune upon its owner. Rubies have been the prized possession of emperors and kings throughout the ages and CARAT* gems were made to carry this same aura of luxury.

Fancy Yellow

Fancy Yellow gemstones symbolize wisdom, joy, optimism, happiness, and youth. Of all the Fancy Coloured Diamonds, Fancy Yellow Diamonds are the most popular. In the same vein, CARAT* Fancy Yellow gems display a youthful exuberance and are admired for their utter brilliance and beauty.

Fancy Pink

Pink gemstones never fail to provide head-turning bursts of colour. Fun and fanciful, they are femininity incarnated. Pink is said to symbolize gentleness, love and affection. Gifting yourself or a loved one with Fancy Pink CARAT* gems is perfect for occasions that mark the coming of a bright and "rosy" future.

Emerald Green

Emerald Green is the colour of spring and has long symbolized love and rebirth. As the gem of Venus, it was also considered to aid in fertility.

Cleopatra, Egypt's tempestuous female monarch was as famous for wearing Emeralds in her time as Liz Taylor is for wearing diamonds in our time. Ancient Egyptian mummies were often buried with an Emerald carved with the symbol of verdure – flourishing greenness – on their necks to symbolize eternal youth. Emerald green CARAT* gems add a pop of lavishness and timeless beauty to any look.

Diamond White

Diamond White CARAT* gems follow the long history of folklore that have been attached to diamonds for centuries. Often regarded as the ultimate gift and a symbol of eternal love, diamonds are still and will continue to be admired all around the world. While we agree that nothing sparkles quite like a natural gemstone, we are also certain that you will not find a better alternative than CARAT*. Many jewellers have admitted that they have difficulty telling our gems apart from naturals because of their very similar optical characteristics. Normally when compared on the GIA diamond colour scale, our stones have an equivalent D or E colour (D being the very top of the scale).

Champagne

Champagne coloured gems are a wonderful choice if you are looking for something special yet subtle. CARAT* range in colour from Chocolate to light Champagne. Though Champagne CARAT* gems display an understated beauty, they in no way compromise on shine. The subtle hues and rarity of Champagne gems make our Champagne CARAT* gems an attractive choice for a women seeking a modern Fancy coloured gemstone.

Pink Padparadscha

The most sought-after colour of Fancy Sapphires is the rare and beautiful Padparadscha: a pink-orange gem with a distinctive salmon colour reminiscent of a tropical sunset. Pink Padparadschas are ultra-rare and are among the most coveted gems in the world. We have captured the beauty of these natural inspirations with our Pink Padparadscha CARAT* gems which effortlessly emulate their warm and glowing magnificence.
Stone Size
Download, Print & Compare our Diamond Size Guide
Download
Download and print our stone size chart to compare all stones available.
Prior to printing, ensure that Page Scaling is set to "None" on your print dialog box.
Ring Size Chart
Inside Diameter
Inches
MM
USA
UK
HK
0.554
14.07
3
F
6
0.562
14.27
3.25
F½
6.5
0.57
14.48
3.50
G
7.25
0.578
14.68
3.75
G½
8
0.586
14.88
4
H
8.5
0.594
15.09
4.25
H½
9
0.602
15.29
4.50
I
9.5
0.61
15.49
4.75
I½
10
0.618
15.7
5
J
11
0.626
15.9
5.25
J½
11.5
0.634
16.1
5.50
K
12
0.642
16.31
5.75
K½
12.5
0.65
16.51
6
L
13
0.658
16.71
6.25
L½
14
0.666
16.92
6.50
M
14.5
0.674
17.12
6.75
M½
15
0.682
17.32
7
N
15.5
0.69
17.53
7.25
N½
16
0.698
17.73
7.50
O
17
0.706
17.93
7.75
O½
17.5
0.714
18.14
8
P
18
0.722
18.34
8.25
P½
18.5
0.73
18.54
8.50
Q
19
0.738
18.75
8.75
Q½
20
0.746
18.95
9
R
20.5
0.754
19.15
9.25
R½
21
0.762
19.35
9.50
S
21.5
0.77
19.56
9.75
S½
22
0.778
19.76
10
T
22.5
Key Stone: Round Brilliant
The Round Brilliant, or Brilliant Round cut, is one of the simplest yet most dazzling expressions of a cutter's wheel. With 58 facets to refract and reflect light on, the round brilliant cut represents the most popular form of cutting in the 21st century.

Setting: Sterling Silver
Our Sterling Silver pieces are 92.5% pure silver mixed with an alloy of Silver, plated in rhodium for a durable and scratch resistant finish.
White / Yellow / Rose
Our Stones
We use premium synthetic gemstones and Zirconia Crystal, meticulously hand and precision machine cut by experienced and highly trained stone cutters.
Precision is key in the making of our stones to achieve the ideal proportions that will yield the most brilliant CARAT* London stones.